Unlimited Monthly Halotherapy Cave Sessions $99
SALT IS AN ESSENTIAL INGREDIENT IN OUR DAILY LIVES. IN A PURE FORM, SALT DETOXIFIES THE BODY, IS ANTIMICROBIAL AND ANTIBACTERIAL, AND CONTAINS 84 TRACE ELEMENTS OF MINERALS FOUND IN THE HUMAN BODY. HALOTHERAPY IS EFFECTIVE IN IMPROVING OVERALL HEALTH AND COMPLIMENTS MANY TREATMENT PLANS FOR RESPIRATORY, SKIN, AND LYMPHATIC CONDITIONS.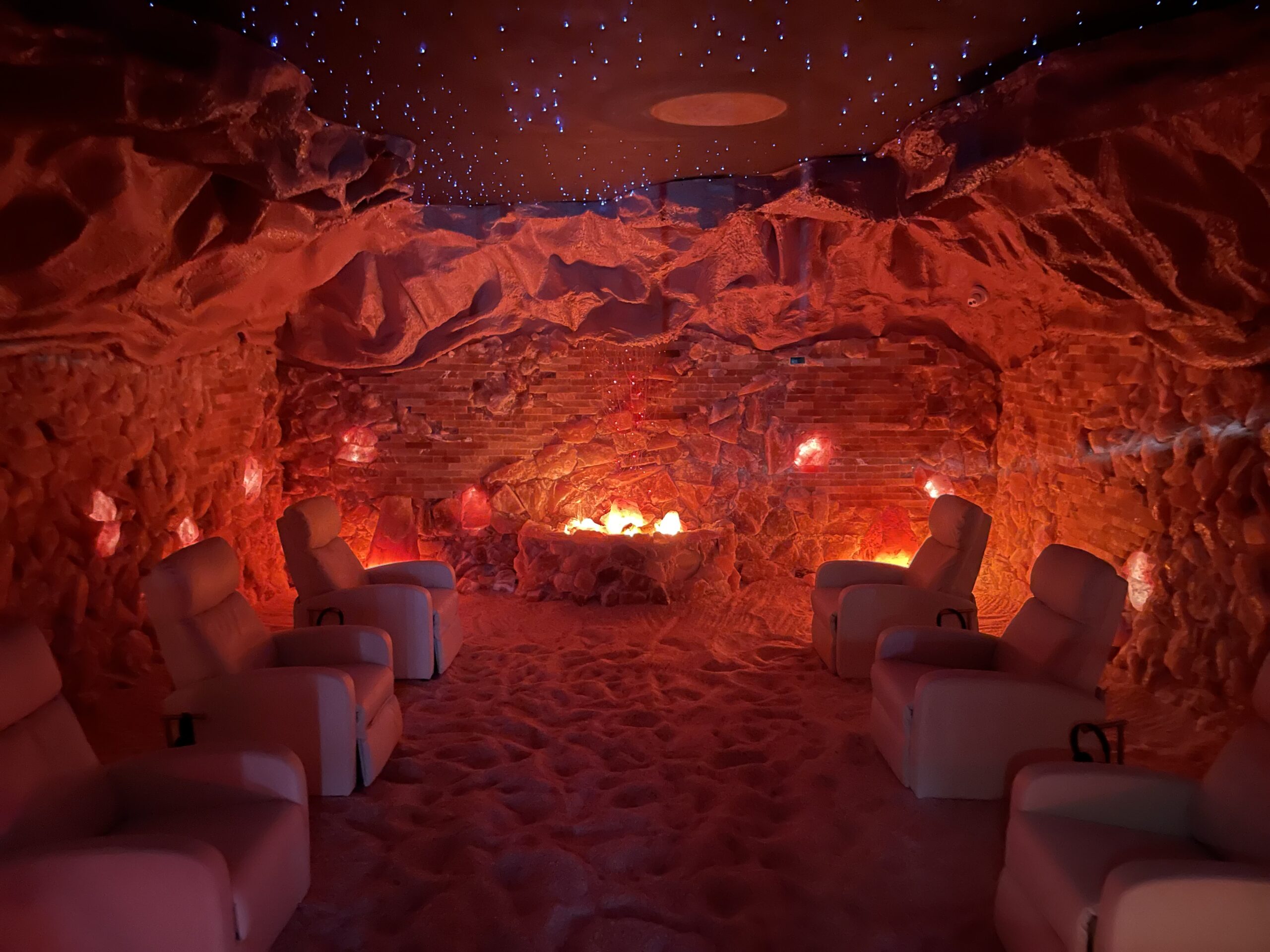 CAVE SESSIONS START PROMPTLY AT THE TOP OF THE HOUR
PLEASE ARRIVE 15 MINUTES PRIOR TO YOUR SCHEDULED SESSION TIME (LATE ARRIVALS MUST REBOOK)
Built with pure Himalayan salt, authentically sourced from Europe
We have

NEW 

relaxing leather recliners

Our Halo-Generator circulates healing salt particles through the air
All you need to do is breathe
Himalayan Salt Cave Session
45 minutes- $29.00

Our salt cave is designed to enhance relaxation while getting the benefits of a wellness environment. The cave walls and floor are covered with thousands of pounds of Himalayan Salt producing air cleansing negative ions. A Halo generator grinds salt down into fine particles to be inhaled through the air.
Wear loose comfortable clothing
Cave sessions start promptly at the top of every hour
Arrive 15 minutes prior to scheduled session time (late arrivals must rebook)
The cave temperature is set at 70 degrees
Provided for use during each session:
A clean blanket
Sanitized headphones
Relaxing music
Comfortable leather recliners
Locker to secure your belongings
Electronics are not permitted inside the cave
Duration of session is 45 minutes

Acne

ADHD

Allergies/Asthma

Bronchial/Sinus Issues

COPD/Emphysema
Cystic Fibrosis

Depression/Fatigue

Ear Infections

Nervousness

Poor Concentration
Eczema/Psoriasis

Sleep Disorders

Smokers Cough

Stress/Anxiety

Weakened immune systems